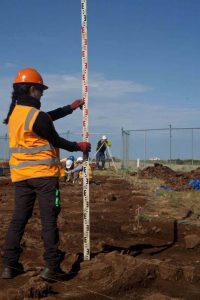 Cultural Heritage Assessments
By undertaking a Cultural Heritage Assessment (CHA) we provide an expert opinion as to whether the Aboriginal Heritage Regulations 2007 have been correctly applied to your development project.
Potential Cost Savings by Avoiding an Unnecessary CHMP
A CHA can be prepared as part of your due diligence process, impact statement, or as expert evidence prepared for presentation to Council or VCAT. We can act on your behalf as expert witnesses at VCAT or panel hearings.
Demonstrating that a CHMP is not required will result in significant time and cost savings for your project.
Council and VCAT Success Stories
We have prepared more than 400 CHAs, over 90% of which have been accepted at local council or VCAT without requiring further investigation.
Here are just some of the VCAT decision success stories that our people have been involved in:
Azzure Investment Group Pty Ltd v Mornington Peninsula SC
Colquhoun & Ors v Yarra CC
Robert Polizzi Summerhill Drafting Service v Hume CC
PMC Developments Pty Ltd v Kingston CC
Bablis Holdings Pty Ltd v Bayside CC
The Silver ARC v Kingston CC
Williamson & Ors v Yarra CC & Anor
Butter Factory Supermarket Pty Ltd v Surf Coast SC & Ors
Hocking v Moyne SC
Read Our Planning and Aboriginal Cultural Heritage Brochure
For further information please see our publication on Planning and Aboriginal Cultural Heritage that provides an overview of how we can help you get compliance approval for your project.
Speak with a Cultural Heritage Consultant
If you would like to speak with a heritage consultant, please do not hesitate to contact us or make an appointment by clicking on the button below.
MAKE AN APPOINTMENT WITH US