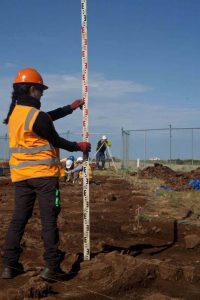 By undertaking a Cultural Heritage Assessment (CHA), we provide an expert opinion as to whether the Aboriginal Heritage Regulations have been correctly applied to your property development project.
What is a Cultural Heritage Assessment?
A cultural heritage assessment report is a written report detailing the results of the assessment of an area that has Aboriginal cultural heritage sensitivity and so may be subject to a Cultural Heritage Management Plan. The assessment report also contains recommendations from our heritage advisors on actions to be taken before, during and after any development activity to ensure that any declared Aboriginal objects and sites are protected.
When is a Cultural Heritage Assessment Needed?
State level legislation prescribes the circumstances under which a Cultural Heritage Management Plan is required. A CHA can be prepared as part of your due diligence process, impact statement, or as expert evidence prepared for presentation to Council or VCAT.
CHA Preparation Expertise & Resources
Our team of cultural heritage professionals are fully qualified and extensively experienced with producing detailed heritage assessments and appraisals with a proven track record of reducing compliance costs for development projects both large and small.
Team Capabilities
Expert Consultation
Background research
Artefact analysis
Expert witness testimony at VCAT or panel
Geographic Information Systems
Desktop Reporting – Due diligence
Lodging of documentation with regulating groups
Andrew Long + Associates provide reliable data and expert conclusions. All CHAs are produced in a format that can be correctly submitted to regulating authorities for review.
POTENTIAL COST SAVINGS BY AVOIDING AN UNNECESSARY CHMP
A Cultural Heritage Assessment can help avoid the need for developing and managing a Cultural Heritage Management Plan, depending on the findings of the investigation. Demonstrating that a CHMP is not required will result in significant time and cost savings for your project.
COUNCIL AND VCAT SUCCESS STORIES
We can act on your behalf as expert witnesses on cultural heritage matters at VCAT or panel hearings. Our team have prepared more than 450 CHAs, over 90% of which have been accepted at local council or VCAT without requiring further investigation.
Here are just some of the VCAT decision success stories that our people have been involved in:
We have helped many more clients from requiring a CHMP or other potential effects resulting from a misapplication of heritage rules on their development projects.
WHY CHOOSE US TO PREPARE YOUR CHA?
Over 90% of our CHAs have been accepted by local council or VCAT without further investigations being required.
A Cultural Heritage Assessment prepared by our team is guaranteed to be of the highest standard in the industry.
Leverage our wealth of legal and archaeological expertise.
Without compromising on quality, our efficient use of resources on each investigation makes us a cost-effective choice.
READ OUR PLANNING AND ABORIGINAL CULTURAL HERITAGE BROCHURE
For further information, please see our publication on Planning and Aboriginal Cultural Heritage that provides an overview of how we can help you get compliance approval for your project.
SPEAK WITH A CULTURAL HERITAGE CONSULTANT
If you would like to speak with a heritage consultant, please do not hesitate to contact us or make an appointment by clicking on the button below.
MAKE AN APPOINTMENT WITH US